TV placement is becoming more and more discrete. Nowadays, many homeowners don't have the space for (or don't want) a media room in their home. Rooms need to be more multifunctional, rather than specific to certain needs, so what does a homeowner do when they want a TV in the room but don't want to see it all the time? Let me introduce you to the TV lift, an ingenious device that allows you to hide your TV in anything from the foot board of your bed, to a dresser, to your floors, your ceiling... the possibilities are endless. Here are some of my favorite ideas:
I recently had a client who wanted a TV in the kitchen but didn't want to see it all the time (or take up precious counter space) so we tucked it into an upper cabinet. The cabinet can still be utilized, it's just shallower than the others, and the TV can drop down via remote whenever they are inclined.
One of the biggest debates I see between clients is whether or not to have a TV in the bedroom. Hiding the TV in the footboard of your bed frame, or in an end cabinet, is one of the best compromises I've seen.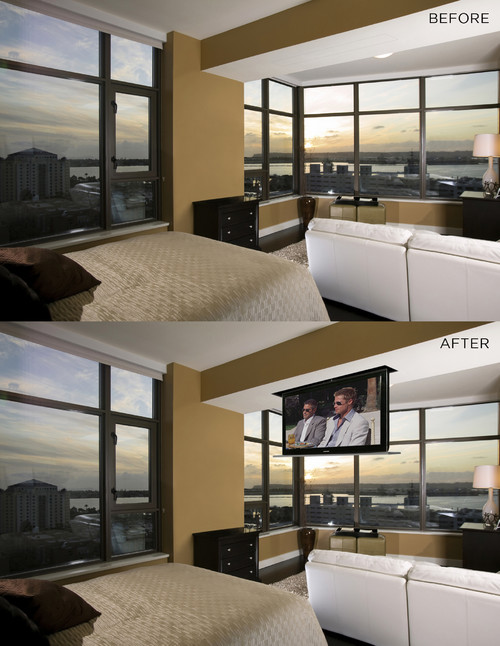 If you don't have room for a cabinet, hiding your TV in the ceiling is a great space saver.




Or, if you have a million dollar view and don't want anything to block it, consider hiding the TV in your floor. This is also the best idea for larger flat screens that won't fit on furniture.




One of the coolest ideas I've seen is the introduction of hiding your TV outdoors. Hot tubs are meant for relaxing and adding a TV to the mix can only make the experience better.