Drool-Worthy Christmas Kitchens and Winter-Warm Countertops
Photo by Epic Group Ohio
Do you decorate your kitchen for the holidays?  I like to add a few simple elements to my kitchen just to add a festive touch.  I am always looking for inspiration and have found 10 really pretty kitchens decorated for Christmas.
Some of these kitchens are decorated simply and others are more elaborate. Whatever your style, you are sure to find one that you are drawn to.
And speaking of kitchens you are drawn to, are you looking to remodel your kitchen?  I found the coolest program on Caesarstone's website.  They have a site where you can create your own kitchen moodboard to design your own dream kitchen.  Let me just say that I have had so much fun doing this and I have created about a million different options.
But before we get to that, let's look at some really pretty kitchens decorated for Christmas!
First off, check out this amazing kitchen and that showstopper green stove!  I mean, come on.  How perfect is that for Christmas?  Add in a few simple Christmas touches such as wreaths and some green and red.
This kitchen looks beautiful with its rustic black cabinets and mismatched wood island.  The simple Christmas décor is the perfect addition to this space.
I am a big fan of open shelves in the kitchen, and this kitchen pulls them off well.  I love the simple red wreath, touches of greenery, and other simple Christmas touches.  There seems to be a theme going on don't you agree?  Simple is great!
Now if you are into more elaborate Christmas décor in the kitchen, this one is for you.  Its got some adorable Christmas décor.  Who could not get into the holiday spirit in this kitchen?
Here is another quaint kitchen full of Christmas décor.  I love the small tree in the room!  There are so many small details that add so much to the space.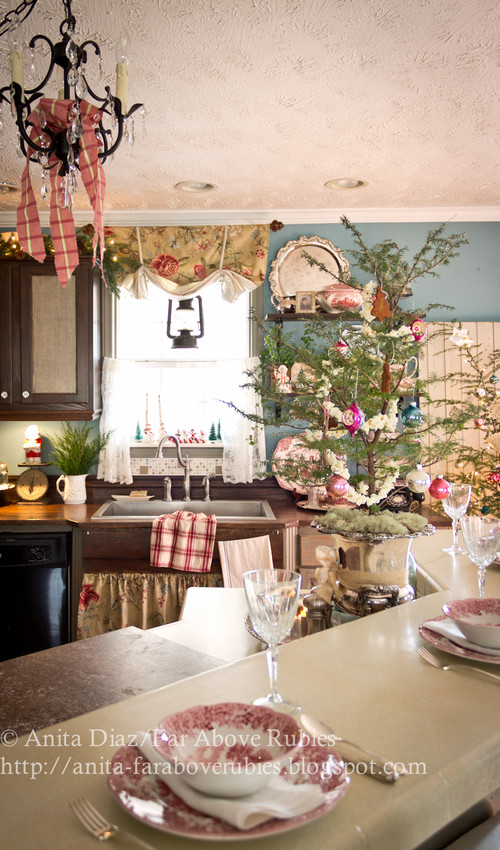 This kitchen has a more vintage feel, especially with that turquoise stove!  The small Christmas tree is really all the décor you need!
This last kitchen is really cool.  I love the collection of nutcrackers above the stove.  Such a great addition of Christmas décor.
Now, for a little more fun.  Have you ever played with or created a moodboard?  As a design blogger, it is one of my most favorite things to create.  Caesarstone recently collaborated with Sabrina Soto to create moodboards inspired by their 10 winter-warm countertops.  You too can go over to this website and create your own.  This is a great way to get inspired if you are looking to remodel a kitchen or are just starting out and want to create a brand new kitchen.
Here are a few of my moodboards.
As you can see I am a huge fan of vintage patterned rugs.  I added a few Christmas touches to the moodboards too.  I am absolutely obsessed with the countertop options and would love to install some of these in my kitchen.  These moodbards are super easy to make, just drag and drop the items you love!
Now here where it gets really exciting.  Celebrate the holidays, and a renovation, with Caesarstone. Purchase one of their ten winter-warm colors between now and December 31, 2017 and receive $150 to Houzz by simply sharing a picture of your receipt and an image of your installed countertop.  Click here to read more about this opportunity.
So, have you been inspired to decorate your kitchen for the holidays?  Or are you ready to design the kitchen of your dreams?  Why not get at it!
Have a great day!
For more holiday inspiration: DIY Holiday Wreath | 5 Unique Ways to Use Twinkle Lights This Christmas