Being Good to the Environment: Eco-Friendly Kitchens & Baths
Photo by R.Z.Owens Constructions
Being good to the environment is easier than you think. Eco-friendly elements are more accessible than ever before, meaning you can have "green" kitchens and baths that protect our planet's resources and can save you time and money in the long run. Here are a few ways to make an eco-friendly home:
Flooring
Bamboo and cork are my favorite earth-friendly flooring materials great for both kitchens and baths. Cork is soft on the foot, sound absorbing, hypoallergenic, and resistant to mold and mildew. Bamboo is fast growing, long lasting, and durable. When bamboo is harvested to make floors, the plant isn't killed- the roots remain intact so new shoots can grow. Both bamboo and cork come in a wide range of beautiful colors and styles.
Countertops
Going "green" in your kitchen and bath can extend to your countertops too. There are so many options that are beautiful, durable, and gentle to our planet. Butcher block is a popular eco option because not only does it look great, but it can last a very long time. You can cut on it and after you've accumulated enough scratches to show its age, you can sand your butcher block counters down, seal them, and have a whole new look and feel.
Other eco-friendly countertops are bamboo, recycled glass, stainless steel, concrete, and even Caesarstone, which is dedicated to minimizing the environmental impact throughout the production process.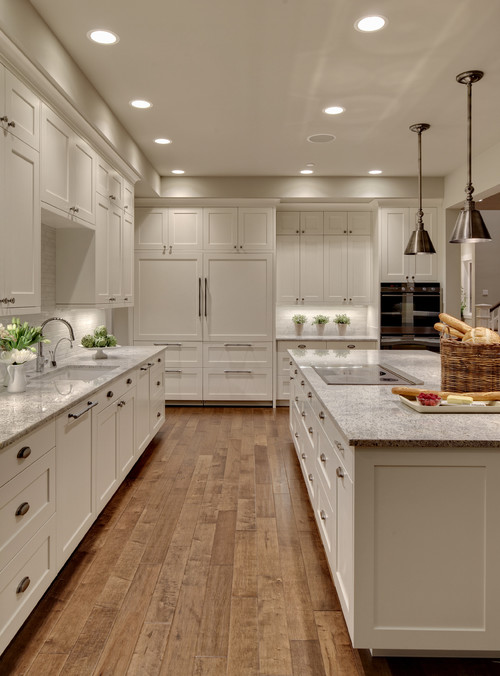 Lighting
LED lighting is your best bet for saving energy throughout the house, but because of the initial costs of LED bulbs, homeowners are hesitant to invest in them. LED lightbulbs consume 80% less energy than incandescent lighting and last 25 times longer. If you're unable to make the change to LEDS, CFL bulbs (compact fluorescent) are also a good substitute to incandescent lighting.
Appliances
There's a large selection of EnergyStar appliances that you can choose from. Appliances with the EnergyStar label mean that they have met government standards for energy-efficiency. That's just a start, though. New technology has paved the way for amazing features like the ability to use renewable power, less energy usage, and magnetic induction on cooktops.
Eco-Friendly Plumbing
Low-flow toilets, showerheads, and faucets can pay for themselves in just a few short years and have a very positive impact on the environment. They cut down on water bills and make your home more environmentally friendly. There are also plenty of dishwashers and washing machines to choose from that will save water.
Although they can be costly, tank-less water heaters are a great investment for an eco-friendly home. Tank-less water heaters last up to 20 years, while regular water heaters last between 10 to 13 years. They are also a large space saver, being much smaller than the bulky, traditional water heaters.
Reduce, Reuse & Recycle
By choosing salvage materials for your kitchen and baths, you cannot only save money, but also save materials from being sent to landfills. Flooring, countertops, appliances and more can be found at salvage stores and could be used to bring character to kitchens and baths.